Enter your information and I'll get right back to you with a free home estimate.
check
Sent
What's my home worth?
Enter your information and I'll get right back to you with a free home estimate.
check
Sent
Should I Sell My House This Year?
January 28, 2020
---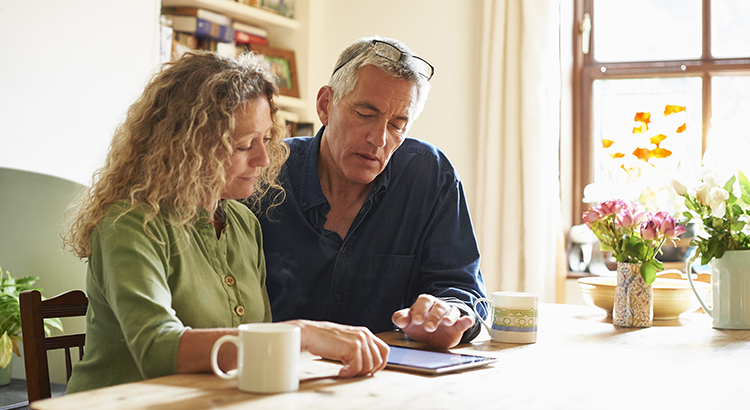 If one of the questions you're asking yourself today is, "Should I sell my house this year?" the current Housing Opportunities and Market Experience (HOME) Survey from the National Association of Realtors® (NAR) should boost your confidence as it relates to the current selling sentiment in the housing market. Even with all the information overload in the media circling around talk of a possible recession, the upcoming 2020 election, and more, Americans feel good about selling a house now. That's some news to get excited about!
As the graph below shows, as of Q4 2019, 75% of people surveyed indicate they believe now is a good time to sell a home: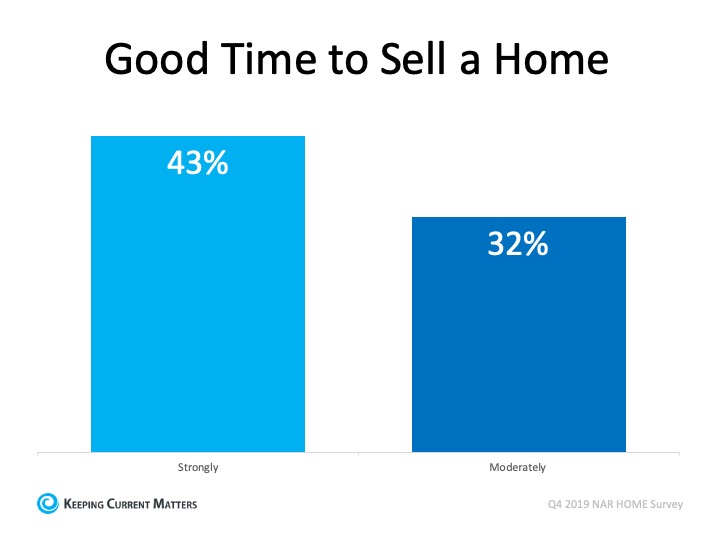 In the case of those with a yearly salary of $100,000 or more, the results jumped even higher, coming in at an 82% positive sentiment.
When the study divided the outcomes by region, the results still consistently showed Americans feeling good about selling:
Northeast: 71% positive
Midwest: 76% positive
South: 72% positive
West: 81% positive
In addition to looking at income and region, the report also divided the results by generation, as shown in the graph below: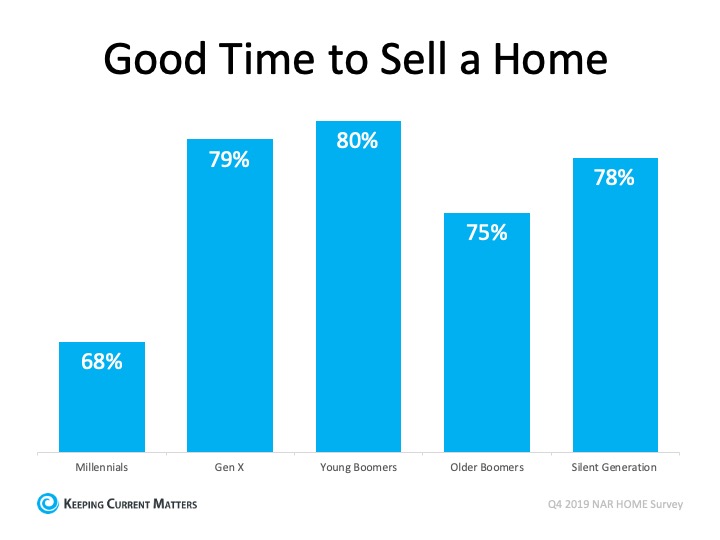 As you can see, many believe that, despite everything going on in the world, it is still a good time to sell a home.
According to NAR, the unsold inventory available today "sits at a 3.0-month supply at the current sales pace," which is down from a 3.7-month supply in November. The current inventory is half of what we need for a normal or neutral housing market, which should have a 6.0-month supply of unsold inventory. This is good news for sellers, as Lawrence Yun, Chief Economist at NAR, says:
"Home sellers are positioned well, but prospective buyers aren't as fortunate. Low inventory remains a problem, with first-time buyers affected the most."
Bottom Line
If you're ready to list your home, you can feel good about the current sentiment in the market. Contact a local real estate professional today to determine the best next step when it comes to selling your house this year.
---
Tags:
Featured Listings
Welcome to Agramonte Dr, in Happy Valley, Newhall, where life harkens back to days when neighbors brought you cookies and gathered together for barbeques. This immaculate, 3 bedroom, 2 bath home, with a long reaching view of the Santa Clarita Valley
Wonderful 55+ Country Club Community features golf course, guard gated entrance, large pool and spa and so much more. Basic cable, trash and outside water is included in the HOA. This cute 2 bedroom unit has fresh paint, new carpet, newer garage door
Light and bright upper level condo with high ceilings and a spiral staircase to take you up to the loft. The living room features a fireplace and a sliding door out to your private balcony where you have a great view of the neighborhood.